Ways To Install Soft Artificial Grass Around Pools In San Diego Ca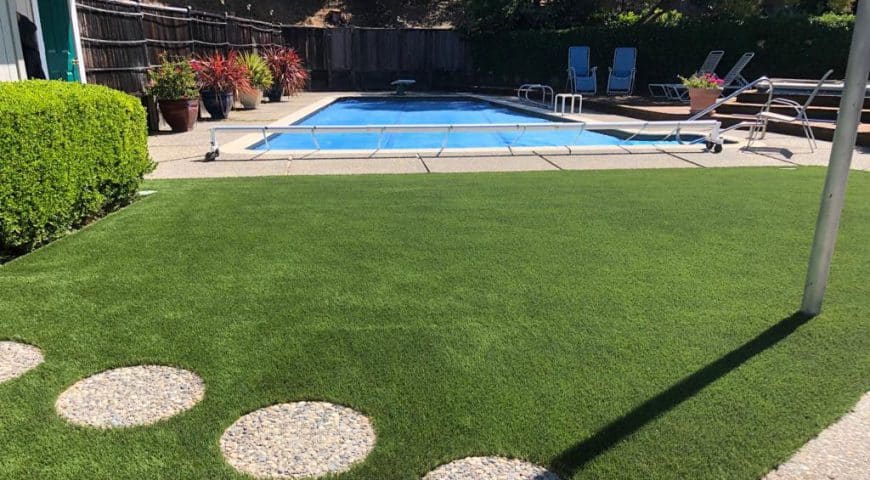 With the soaring popularity of artificial grass, homeowners are constantly seeking innovative ways to incorporate this hassle-free landscape design into their surroundings. One such unique use is installing soft artificial grass around swimming pools. Apart from giving an appealing aesthetic, it also provides a non-slip surface, reducing the chances of poolside accidents. Here are five ways to flawlessly install soft artificial grass around your pool.
The initial step involves preparing the installation site. Remove any existing grass or weeds around the pool. The surface should be levelled to ensure proper drainage. Create a slight slope away from the pool to avoid water from entering it.
Artificial grass is permeable, allowing water to seep through, but the underlying ground may not be. To prevent water logging, install a drainage system like a French drain or crushed stone layer before laying down the grass.
To prevent the growth of unwanted vegetation, apply a weed barrier directly on the ground. This layer will stop weeds from growing through your soft artificial grass while allowing water to drain away effectively.
Roll out the artificial grass over the weed membrane. Ensure the grass fibers are facing away from the house for the most natural look. Cut around the edges carefully to fit the pool shape. The grass should not overlap the pool edge as it might get pulled in over time.
After the artificial grass is in position, secure it with landscaping nails or U-shaped metal pins. Finally, add infill to stabilize the grass blades and keep them upright. For pool areas, anti-clumping infill that can withstand water is recommended.
FAQs
Can I Install Artificial Grass Directly Over My Existing Grass?
No, it's not recommended to install artificial grass directly over existing grass. The existing grass may decompose over time, causing uneven surfaces. Also, weeds might grow up through the artificial turf.
Does Artificial Grass Around A Pool Increase Slipping Hazards?
No, high-quality artificial grass is designed to be slip-resistant, making it safer than other poolside materials such as tiles or concrete.
Can Chlorinated Water Damage Artificial Grass?
Chlorinated water does not damage high-quality artificial grass. However, it's important to rinse the grass periodically with fresh water to prevent any potential buildup of chemicals.
Conclusion
Installing soft artificial grass around pools not only enhances the overall appearance of your backyard but also creates a safer and more comfortable environment. It's a cost-effective and low-maintenance option that allows you to enjoy the feel of natural grass without the associated drawbacks. However, installation requires meticulous planning and execution for the best results. If in doubt, it's wise to consult with professionals who can guide you through the process, ensuring a long-lasting and enjoyable green space around your pool. For more information, contact Artificial Turf San Diego Ca at (619) 369-0049.